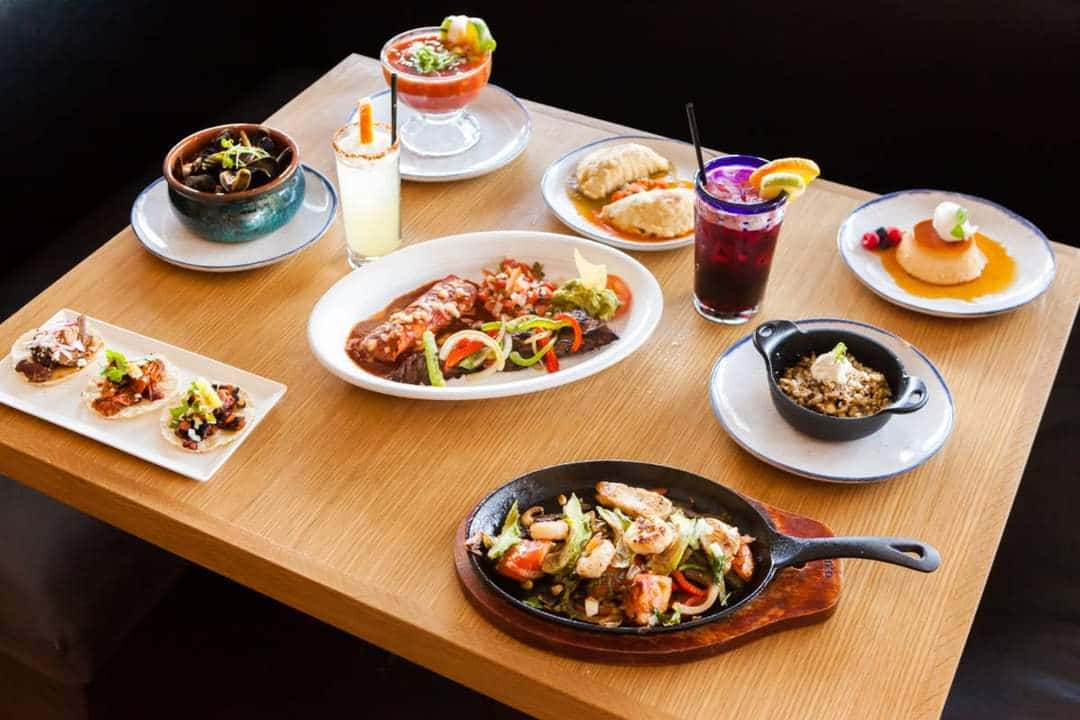 Vegan - Vegetarian Menu
Become a VIP
Receive updates on special events, new menu items, menu reviews, and more!
Vegan - Vegetarian Menu
Vegan Plant Base Cantina
In the latest edition of our menu, and in keeping with our values to support the planet, the welfare of animals, and our health, we have evolved the emphasis from our historical lacto-vegetarian tradition to a primarily plant-based offering.
All references to meat, cheese or other dairy-type ingredients on the menu are vegan.
While some items formerly made with dairy products will still be available upon request as noted D(O) dairy optional we hope you'll give our excellent vegan alternatives a try.
All Vegan Cheeses are follow Your Heart® Brand | Dairy Available Upon Request for Select Items | Substitutions May Result on Additional Charges
Enchiladas
Cheese Enchiladas
$13Garnished with cilantro onions, red or green, rice & beans
Enchiladas en Salsa Veracruzana
$14Zucchini, potatoes, corn, onions, tomato, carrots, capers, olives, red chili morron topped with cheese rice & beans
Specialties
Hand Made Corn-Masa
Tostada Bowl
$14Crispy Corn Tortilla, Black Beans, Rice, Veggies, Corn, Lettuce, Pico De Gallo, Plantains, Guacamole, Sesame Seeds & Cheese
Ensaladas
La Westside
$8Mixed Greens, Tomato, Cucumber, Carrot, Avocado, House Vinaigrette
Beet Salad
$13Fresh Spinach, Romaine, Beets, Avocado, Walnuts, and Balsamic Vinaigrette (goat Cheese)
Tropical
$11Mixed Greens, Mango, Black Beans, Jicama, Pumpkin Seeds, Avocado, Tortilla Strips (queso Fresco) Passion Fruit Vinaigrette
Caesar
$11Chilled Whole Romaine Hearts, Parmesan Croutons, Homemade Caesar Dressing
Tamales
Sweet Tamales
$8Pineapple Raisin Cinnamon
Tamales Poblanos
$9Contains dairy
Corn masa tamales roasted poblano peppers & cheese
Green Corn Tamales
$9Contains dairy
Made from green corn poblano peppers & cheese
Quesadillas Hechas a Mano
GF(O)
Gluten Free Optional
All Vegan Cheeses are follow Your Heart® Brand | Dairy Available Upon Request for Select Items | Substitutions May Result on Additional Charges

Allergen Warning. In our kitchen, we use soy, wheat, dairy, peanuts, and tree nuts. While we take steps to prevent cross-contact, we do not have separate equipment for the various allergens and are unable to guarantee that any menu item is completely free of allergens. If you have food allergies, please ask your server for information about specific menu items

CATERING AVAILABLE
18% Gratuity 6 or More